Quality Shirts are now available! $5 from every shirt goes directly to C.A.R.! To purchase, simply click on the shirt below.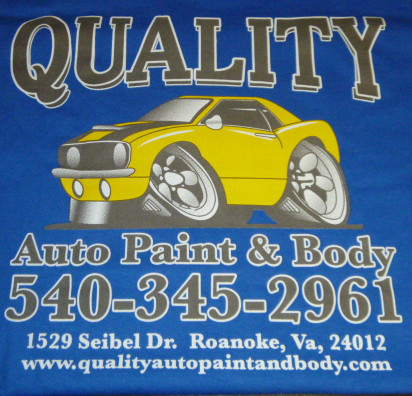 Bully Project Car
We would like to start by thanking everyone that has contributed towards our Bully Project Car. This includes; Parts Unlimited, Press Press Merch, Advance Auto Parts, Moon's Auto Body, Rice Toyota, Val's Automotive, The Rod Shop, AJ's Landscaping, Anchor Sales, Sun Solutions, B&C Exterminating, Twists & Turns, Valley Excellence Automotive, Samson Marshall,  James T. Davis, Jamie Hurst, Adam Lyon, Chad Thomas, and Sunnybrook Auto Spa, we couldn't have done this without you. We would like to send out a very special thanks to Elizabeth Harrington and Andy May and the entire WDBJ7 crew for making this story possible. We would also like to thank everyone who has called in, emailed us, sent us messages on Facebook and Twitter, sent us mail, those who have sent gifts, and those who have volunteered to help in the future. Thank you everyone! It is because of you amazing people, that this was made possible.
I
n April of 2011, Jr , the manager and estimator at Quality Auto Paint And Body  received an email from an old friend with the story of a bullied college student named Jordan Addison.  Jr knew immediately that he had to do something to help. He invited Jordan to the shop to view the damages in person and then went above and beyond to completely overhaul Jordan's car. We fixed the doors, gave him new tires, a new paint job, tinted windows, new security system, and a new stereo.
The WDBJ7 coverage of the vehicle reveal went viral overnight. QAPB immediately starting answering phone calls from all over the world. A week later, Richard took a surprising phone call from The Ellen DeGeneres Show. He was soon on his way to Hollywood to be on Ellen's season premier. Jr. left Hollywood with $25,000, a commercial that included Olympic gymnasts, Patrick Dempsey, Pink as well as an experience he will never forget.
During Richard's flight home, his non-profit Charitable Actions Revolution (CAR) was born. CAR's sole purpose is to spread love and not hate. The main project that CAR will take on, is fixing up a vehicle for a deserving person once a year. Jr also plans on reaching out to the community through schools and other projects in attempt to, "save the world one CAR at a time."
    Watch our story on WDBJ7: Roanoke Auto Shop Restores Bullied Student's Car